Servais Silencers      exhaust after-treatment

A catalytic converter is a vehicle emissions control device which converts the toxic  by-products of combustion in the exhaust of an internal combustion engine to less toxic substances by way of catalysed chemical reactions. The specific reactions vary with the type of catalyst installed. Most present-day vehicles that run on gas are fitted with a "three way" converter, so named because it converts the three main pollutants in the exhaust, an oxidising reaction converts carbon monoxide (CO) and unburned hydrocarbons (HC) to CO2 and water vapour, and a reduction reaction converts oxides of nitrogen (NOx) to produce CO2, nitrogen (N2), and water (H2O).
Catalytic converters are still most commonly used in exhaust systems in automobiles, but are also used on generators, forklifts, buses, mining-equipment, locomotives, trucks, motorcycles and other engine-fitted devices. This is usually in response to government regulation, either through direct environmental regulation or through health and safety regulations.
At Servais Silencers we are able to supply the catalytic converter either as an in-line unit, or incorporate the unit inside the silencer to the original equipment design.
Servais Silencers have been established as an independent manufacturer of industrial silencing systems and an international supplier for over 60 years.
From our UK based facility in Wolverhampton we are perfectly situated near the M54 giving us easy access to the UK road network, ports and airports. Our current production is for original equipment, such as generator manufacturers, cranes and wood chipping machinery. Servais Silencers also specialise in the production of bespoke finished product for both diesel, gas, and air engine driven products, produced in both painted and stainless steel finishes.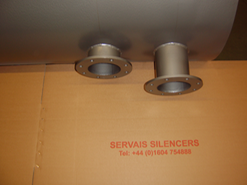 A comprehensive engine/application data base is maintained, and with confidence  Servais Silencers are able to design and produce a silencer to suit your requirements whatever they may be and wherever they are required.
Servais also manufacture other types of silencers for gas and air systems, including;
Air filters 

Air filter silencers for;

Steam discharge 

Process silencers
A wide range of supportive equipment is also offered, including spark arrestors, flame traps, rain caps, pipe work, flexible connectors, flanges and gaskets.
Combined bespoke catalyst silencers are also available.